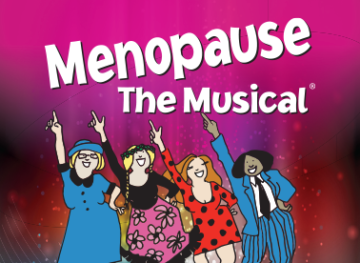 SOLD OUT SHOW!
Off Broadway world wide smash hit comes to Mabou!
A SHAGGYPUP PRODUCTION BY SPECIAL LICENSE FROM GFOUR PRODUCTIONS
First time to Mabou: 1 SHOW ONLY! DON'T MISS OUT!
It's a party every night! Laugh out loud comedy staged to 25 classic hits of the '60s, '70s and '80s.
Come see what millions of women worldwide have been laughing, cheering and raving about for years!
Set in a department store, four women with nothing in common but a black lace bra… come to realize they have more to share than ever imagined.
The all-star Canadian cast makes fun of their hot flashes, night sweats, mood swings, wrinkles, not enough sex, too much sex, chocolate binges and a whole lot more!  'Menopause' is hysterical & leaves you singing, & dancing in the aisles, guaranteed!
Come celebrate your womanhood and join the sisterhood!
Bring your mother, daughter, sister and friends! They'll love it!
Enjoy 'The Hilarious Celebrations of Women and The Change'! Rated "MAN-datory viewing for men" since men love it too!
Don't miss out on 'Happy Hot Flash Hour' from 6:30 – 7:30pm, with Menopause specialty themed drinks like Heat Wave and Mood Swing martinis!
Show: 90 minutes, no intermission.
VIP tickets include seating in the first five rows, and a meet and greet with the cast after the show, along with a Q&A session and photo opportunities. 10% off tickets for groups of 8 or more!