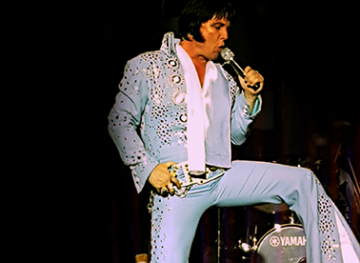 Thane Dunn: Elvis Rock and Country
7:30pm
$30 | $35 day of show
This is a show for Die hard Elvis fans to those who just love great music and having fun!
INTERNATIONAL WORLD CHAMPION THANE DUNN AND THE CADILLAC KINGS NEW ELVIS ROCK AND COUNTRY
International World Champion Thane Dunn and his Cadillac Kings return with all the Rock and Country classics that Elvis made famous worldwide. Born a country boy Elvis Presley loved to sing country songs, when he sang a country song it came straight from the heart. From 'Blue Suede Shoes' to 'Always on my Mind', 'Suspicious Minds' to 'Kentucky Rain', this new show has all your favourites performed by the best in the business.
Thane Dunn has the full Elvis package. From the looks, sound, moves and magnetic personality like none other. His act is so convincing he is actually endorsed by several people who worked and performed with Elvis.
"Thane Dunn is the closest thing I've ever seen to Elvis", Bill Baize of JD Sumner and the Stamps Quartet who performed with Elvis from 1971 to 76.
Special opening act the Rhinestone Cowgirl with her amazing Salute to the Queens of Country Music: Loretta Lynne, Patsy Cline and Tammy Wynette. Featuring your favourites from 'Stand by Your Man' to 'Coalminers Daughter' with her amazing voice and ability to emulate all three country icons flawlessly. With her movie star good looks, charm and authentic costumes you will fall in love with her.
TICKETS ON SALE ON WEDNESDAY, APRIL 25!