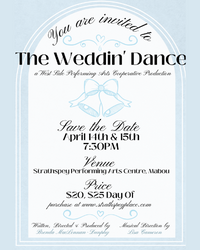 Get ready for the ultimate Cape Breton experience at The Weddin' Dance! This is the community event of the year, and you won't want to miss out on all the fun on April 14th and 15th at Strathspey Performing Arts Centre in Mabou.
Alec Pat Boyd and Dan Peter Williams will have you laughing all night long, especially when they perform "The Heavy Water Plant Song". And don't forget about the MacAulay sisters, who will be there to charm you with their beautiful voices and sing "Last Night There were Four Marys". The Glendale Hall is going to be jumping as Sandy and Irene celebrate their wedding, with Sandy's old band playing all your favorites like "Me and the Boys" and "The Girls From Neil's Harbour". And let's not forget about Duncan and Deborah, who will be there to share their love and joy with the community.
The show is written, produced, and directed by the talented Brenda MacLennan-Dunphy, with a cast of amazing lead actors including Bridget Wilson, Adam MacNeil, Martin Thomsen, and Kristine MacDonald. The MacAulay sisters, Alec Pat, and some new faces will also be there to add to the excitement. The music will be top-notch with Lisa Cameron leading a talented group of musicians.
You'll leave The Weddin' Dance with a smile on your face and Cape Breton songs in your heart. Don't miss out on this unforgettable event – get your tickets now and come join the celebration with your community!