You could see Ed Sheeran at Gillette Stadium!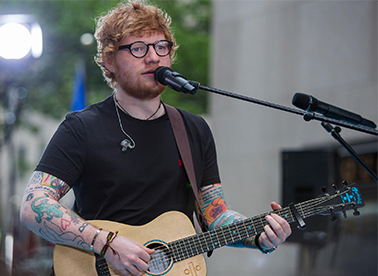 We've got an ultimate getaway! Want the chance to take a friend to see Ed Sheeran at the Gillette Stadium on September 15, with free airfare and accommodations? It's easy to enter to win!
TICKETS ARE AVAILABLE ONLINE here – one entry for $10, and 3 for $25! Tickets are also available in person at Strathspey Box Office in Mabou, the Professional Centre, Suite 101 Port Hawkesbury and at MacKeigan's Pharmacy Whycocomagh.
Draw will take place live on air at 101.5 The Hawk on August 6th.
Sometimes partnerships come from unlikely collaborations!
SAERC Daycare and Strathspey Performing Arts Centre are two very different organizations both faced with the need to raise funds for operations. SAERC Daycare Society is a non-profit organization committed to providing quality childcare and development for all children since 1978.  Strathspey Performing Arts Centre (SPAC) is governed by a non-profit volunteer Board of Directors whose mission is to enrich their communities through a dynamic mix of performing arts, entertainment and educational opportunities in SPAC's professional facility.
What do these two organizations have in common?
A Board of Directors that is made up of a dedicated group of volunteers
A commitment to providing quality services for families and the development of youth
A reality that to sustain operations requires successful fundraising efforts.
Our joint fundraising committee is going to sell tickets that give ticket buyers two chances to win tickets to the Ed Sheeran concert at Gillette Stadium, Foxborough, MA on September 15th. First prize is a package consisting of airfare for two, two nights accommodations, and tickets to the show. Second prize is two tickets to the Ed Sheeran concert performance only.
For more information, feel free to contact the fundraising committee:
Wanda MacLean: Chair, SAERC Daycare  |  wmaclean71@gmail.com
Tracey Gerroir: Staff, SAERC Daycare | thegerroirs@eastlink.ca
Darlene Praught: Parent, SAERC Daycare | dpraught@gmail.com
Misty MacDonald: Treasurer, SPAC | mmacdonald@esren.ca
Tracey MacNeil: Executive Director, SPAC | admin@strathspeyplace.com
Eirinn Fraser: Board member, SPAC | efraser@townofph.ca
Lottery License # AGD-101569-18
*Only Nova Scotia residents are permitted to enter this lottery as per the conditions granted by NS Alcohol and Gaming*