Guthan Òga (young voices)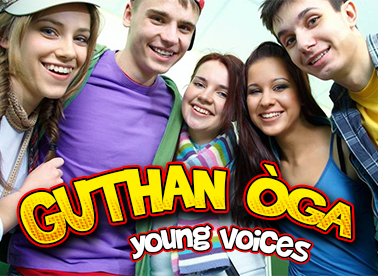 Are you…
Looking to learn more language in an immersive social setting?
Needing more opportunity to practice what language you have?
Wanting to up your song and story repertoire?
Interested in connecting with other teens who speak Gaelic?
Looking for ways to build confidence in a supportive learning environment?
Guthan Òga (young voices) is an intensive Gaelic language educational program available to teenagers in Nova Scotia.  It will be an 8 week program, beginning on Friday, April 20.  Classes will run from 3 – 7pm, Friday evenings in Mabou. (Registration is $100 per youth.)
Applications in the form of a Microsoft Word document should be emailed to Emily MacDonald at eamag3@gmail.com by 6pm, Tuesday, April 10.  Please include your full name, date of birth, an outline of your experience and ability in speaking Gaelic.  Interested applicants are also asked to email a brief audio recording that includes the following information:
– Introduce yourself
– Tell where you are from, your age and what school you attend
– Tell what you enjoy the most about Gaelic language and culture
This program is proudly supported by Iomairtean na Gàidhlig / Gaelic Affairs and Mabou Gaelic & Historical Society.
---
Criteria
Open to ages 13-18
Applicants must demonstrate anintermediate or advanced spoken language level
Some experience reading and writing Gaelic is required
Applicants must have an interest and appreciation for Nova Scotia Gaelic culture
Applicants must demonstrate community involvement in regards to Gaelic culture