Pretty Archie to perform in December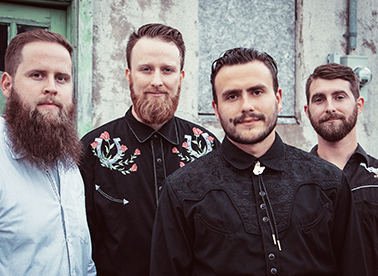 Pretty Archie will perform on Thursday, December 13, 7:30pm at Strathspey Performing Arts Centre… tickets on sale NOW.
Pretty Archie is an Americana/Bluegrass/Roots band from Cape Breton, Nova Scotia. They are known for their entertaining, high energy & foot stomping shows. Their honest, heartfelt writing connects listeners with a saltwater perspective on modern living. The music finds common ground in the blurred genres of Country, Americana, Bluegrass and Blues. Their unique sound has lead to the band developing a following that grows after each show they play — across audiences throughout Canada.
Long time friends Brian Cathcart (Lead Vocals, Guitar), Matt McNeil (Lead Guitar, Mandolin), Colin Gillis (Harmonica, Bass, Vocals) and Redmond MacDougall (Banjo, Percussion, Vocals) make up this quartet. Always jamming together growing up, they guys decided in May 2012 to form a band. The band chose the name Pretty Archie after a local (Cape Breton) character known for playing with 2 strings outside shopping malls in any weather and not always (or ever) in key. The guys thought the name Pretty Archie embodied the love of playing and performing music along with representing their hometown.
Join us all on Thursday evening, December 13 at 7:30pm for a blend of Pretty Archie repertoire that is highlighted with the perfect blend of Christmas!
Ticket Price:  $30 Advance / $25 Members / $35 Day of Show
Tickets are available online now, or through our box office at (902) 945-5300
Interview opportunities also available with Tracey E. MacNeil at:  admin@strathspeyplace.com