We're Hiring!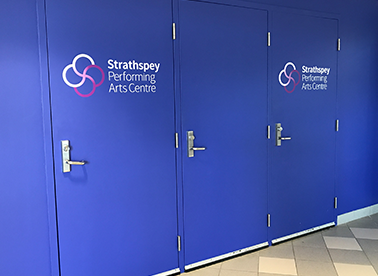 EMPLOYMENT OPPORTUNITY:  Strathspey Place Association
Administrative Assistant / Box Office Manager
Strathspey Place Association is looking to hire an Administrative Assistant who will also manage the box office for Strathspey Performing Arts Centre. The Administrative Assistant will report directly to the Executive Director for SPA.  This position is based on a 15-hour work week, however, the successful candidate would be required to work additional hours from time to time depending on need and schedule of programming.  Hourly rate is $15/hour.
The successful candidate will be expected to competently fulfill the following duties, tasks and responsibilities:
Box Office & Customer Service Responsibilities:
Represent the face of Strathspey Place on a daily basis with an outstanding, positive and pleasant approach
Process & manage all in person and online sales for box office
Become proficient in using ticketing software Theatre Manager
Manage Accounts Receivable and Accounts Payable
Be familiar & comfortable with General Book-Keeping practices
Effectively, professionally and efficiently run an office, looking after all administrative and book-keeping needs
Excellent skill set in math
Performance Related Responsibilities:
Bar Set Up with Board Volunteer- move tables, chairs for bar setup
Pre-show and Post Show preparation related to bar, 50/50 and green rooms
Work with Board Volunteer representative for scheduling volunteers
Handle 50/50 payout,Bar & Till reconciliation post show
Apply for and retrieve liquor licenses (fax)
Book/supervise backfill for office
*NOTE:  This job description is not intended to be all-inclusive. Employee may perform other related duties as negotiated to meet the ongoing needs of the organization.
Requirements:
The successful candidate will possess the following qualifications:
Excellent attention to detail
Knowledge of accounting software, particularly SAGE accounting, would be an asset
Well organized and self-motivated
Excellent command of written English
Must be a team player
Strong organizational and planning skills
Proficient in MS Office
Mature Discretion and Judgment
Ability to multitask
At least 5 years of experience in the field or in a related area
High school diploma or equivalent; university or college degree preferred
Deadline for applications:  September 18, 2018 at 4:00PM.
Please apply via email to:  admin@strathspeyplace.com
SPAC would like to thank all applicants, however, only those selected for an interview will be contacted.