SUMMER 2019 AT STRATHSPEY PERFORMING ARTS CENTRE!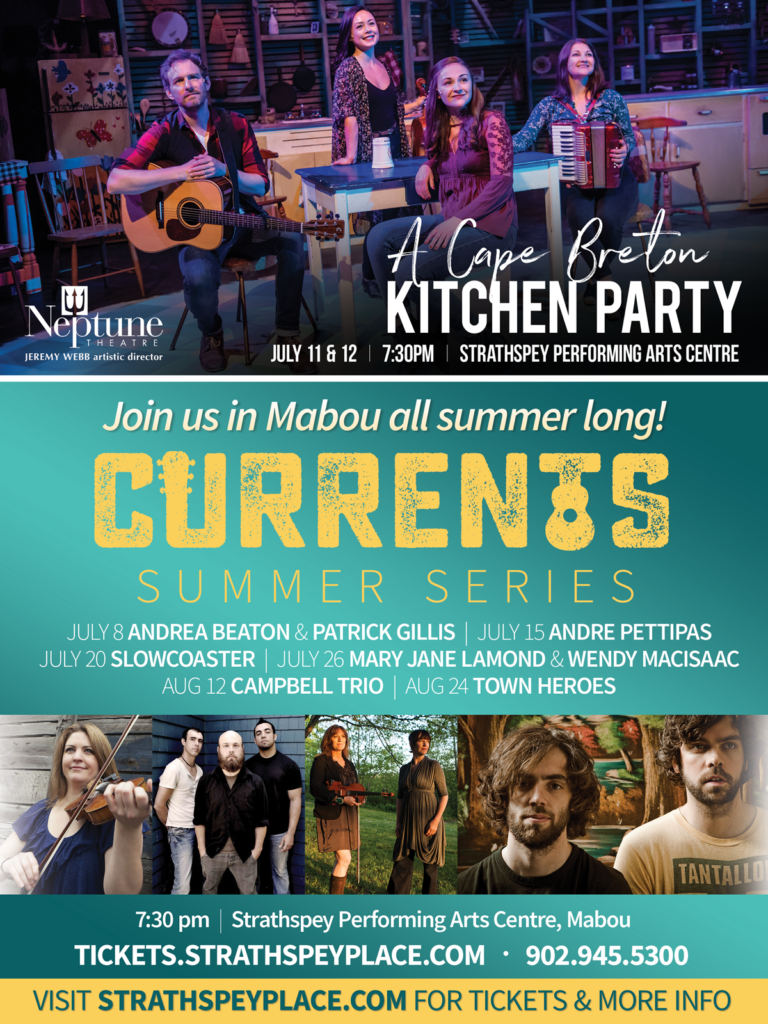 'CURRENTS' SUMMER FESTIVAL with special Theatre Feature:
A CAPE BRETON KITCHEN PARTY comes to Strathspey Performing Arts Centre!
This summer, Strathspey Performing Arts Centre has a line up second to none! With something for everyone, visitors to the theatre can expect to enjoy Folk, Rock, Blues, Celtic, Song-writing, Instrumental and also some surprise musical experiences!
As part of Strathspey's second annual CURRENTS festival, Neptune Theatre's ultimate kitchen party, conceived and created by folk artist Ian Sherwood and Neptune Theatre Artistic Director Jeremy Webb, will take place at STRATHSPEY PERFORMING ARTS CENTRE JULY 11 & 12, 2019!
For two nights, A CAPE BRETON KITCHEN PARTY will transform the stage at STRATHSPEY into a kitchen and bar for three roommates as they throw the best kitchen party EVER.  You must be a part of this!
"This is a unique theatrical experience that we have created," says Artistic Director Jeremy Webb. "Yes, this is a stage production and yes, there is live music, but we're breaking the rules a little as we invite the audience on stage to participate in the party. There is a working bar with staff on stage where patrons can buy a drink and there are even several seats on stage for those who want the full experience."  Come our and Celebrate an authentically Nova Scotia tradition at Strathspey Performing Arts Centre!  
Hosted by a stunning cast of East Coasters, this ceilidh is an all-around good time. Full of singing, dancing and fun, it's the perfect opportunity to grab your friends, bring your family, raise a glass and share a laugh or two!
The CURRENTS Summer Festival takes place various dates throughout July and August, bringing an array of professional, high quality musicians to the stage at Strathspey.  Kicking off on July 8th, 'An evening with Andrea and Pat' will be a unique, up close and personal type of event where attendees will have a chance to talk with these two fantastic musicians, a real visit in real time! Andre Pettipas, Slowcoaster, Wendy and Mary Jane, The Campbell Trio and The Town Heroes, these are the fine folks visitors can expect to see, hear and thoroughly enjoy while visiting Inverness County this summer, specifically Strathspey Performing Arts Centre located at 11156 Route 19, Mabou.
Full listing of all CURRENTS dates is as follows:
All shows begin at 7:30pm. Tickets are available online 24/7 at tickets.strathspeyplace.com or phone SPAC Box Office at (902) 945-5300.