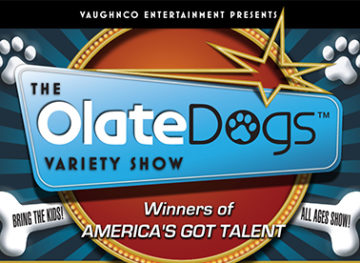 The Olate Dogs 'Winners of America's Got Talent'
7:00pm
$34.50
$44.50 vip tickets | $27.50 youth
VaughnCo Entertainment is very proud to announce this special family show! Quality entertainment for all ages is something we take great pride in, and this event, we know will embraced dog lovers all across Atlantic Canada for children and children at heart.
In 2012 on the seventh season, the audience of 'America's Got Talent' would meet a family like no other. A father, a son and a story that touches the heart of everyone that sees the bond between man and his best friend; or in this case friends. The Olate Dogs and Olate family were the winning participants from Season 7 of America's Got Talent, receiving the $1,000,000 and headlining The Palazzo in Vegas that year. The 22 Olate Dogs create a high-energy, fast-paced theatrical act filled with doggie friendly and amazing pet tricks. The stunts, furiously wagging tales and joyful leaps into their owners arms will delight young and old.
The Olate Dogs are on tour in Atlantic Canada as a part of their North American Tour.
TICKETS ON SALE this FRIDAY, March 31st!

NOTE FOR ONLINE TICKET PURCHASES: VIP Seating is available in the first 4 rows and the purchaser must select their own seats in those areas in order to have the VIP seating option.