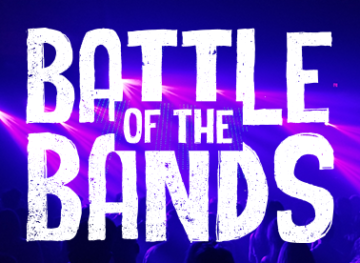 Battle of the Bands
7:00pm
$20
$15 for strathspey members | $15 for students 18 and under | all tickets an additional $5 day of show
Strathspey's 2018 Battle of the Bands
On November 24 at 7pm, SIX bands will compete for 8 hours of recording time with sound engineer Rob Stone at Strathspey Performing Arts Centre right here in Mabou and a logo design by Sara Rankin Creative! All participants will receive a free membership to Strathspey AND a free demo recording from their performance, recorded live the night of their debut.
Well known TV personality Cindy Day will be the Host for Battle of the Bands, with the panel of judges Allie Bennett, Marilyn MacDonald-MacKinnon and Andre Pettipas of Andre and the Giants!
The competitors have been chosen! We couldn't narrow it down to five bands… so there are six competitors! Check them out:
My Favourite Headache (MFH) is an alternative acoustic rock band from Cumberland County, Nova Scotia. The band, which includes members Dylan Ellis, Drew Polegato, J Wood and Robby Osmond-Chown, has grown from four friends rocking out to covers in a garage, to headlining local events with their original written music.
Bridges is an emerging folk rock band from Inverness County. Comprised of band members Abby Mullendore, Barry Fougere and Alasdair Cameron, they're a fun, quirky, edgy band that formed earlier this year.
The Middle River Band's Brian MacIver, Brian Phillips, Richard Herring, and Hector MacRae have been playing with energy and enthusiasm for over ten years. Playing 'anything to keep 'em on the dance floor', they're a crazy little dance band with lots of home grown music.
The Corner Crew hails from Whycocomagh and River Denys and includes Darlene Ellis and Malcolm and Elizabeth Matheson. They've been playing celtic, folk, country and old rock 'n' roll together for six years.
Substitute Blonde is a rock/indie band from the Strait area that has been playing together for over three years. Damian Phillips, Andrew Burch and Justin "2 Stix" Landry form a 'sloppy rock 'n' roll punk band' that wants to bring new music to North America.
Ruth O'Shea is a singer-songwriter from Ireland who has been told her sound has similarities to Joan Baez. She traces it back to her roots in rural Ireland and growing up around the sounds of the 1960s and 70s.