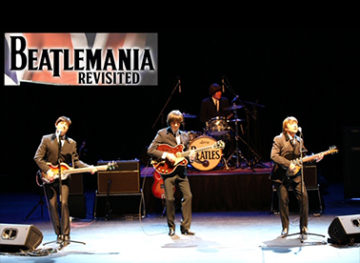 Beatlemania Revisited
7:30pm
$35
$30 students
all tickets an additional $5 day of show
"It's been a hard day's night, and I've been working like a dog…"
Beatlemania Revisited is a family oriented, audience-interactive performance that will have fans laughing, singing, dancing and clapping along throughout the show. Musically, the show features 'note-for-note' song recreations by the amazing cast who are further augmented with full costumes along with vintage instruments and equipment.
Focusing mainly on The Beatles' live performances, the show kicks off with their electrifying first appearance on the Ed Sullivan television show in February 1964, taking the audience through five years of the Beatles' era concluding with their famous January 1969 'roof top' concert. Along the way, Beatlemania Revisited takes in a total of 35 songs, including 'I Want To Hold Your Hand', 'Ticket to Ride', 'Yesterday', 'Penny Lane, 'Hey Jude', 'Something', 'Let It Be' and many other timeless favourites.
Young or old, don't miss the opportunity to experience this fab new show!!
---
"Soooo enjoyed your performance last night!!! We will be attending more of your concerts."

"Wow you guys sound and look like the real Beatles!"

"Thanks for a wonderful sweet 16 present!"

"Thank you for bringing back so many great memories!"
---
'Beatlemania Revisited', a new Canadian-based international touring show, recreates the look, sound and excitement of the fab four's live performances. This unique musical and theatrical event features a combination of talented European and North American cast members in the roles of John, Paul, George and Ringo.
Leading the cast is the incomparable Ian Garcia who  has performed on worldwide as Sir Paul and is a current member of the International Box office smash 'Rain". In the role of Ringo Starr is Mark Matthews. Originally from London UK, Mark is also known in Canada for his original musical works and is a 2010 Juno Award winner. A veteran of the musical stage, his uncanny portrayal of the Beatles' drummer has resulted in many rave reviews. Peter Grant, a talented multi-instrumentalist and self-confessed 'Beatle fanatic' has performed alongside numerous Canadian artists and has travelled 3 continents performing The Beatles songbook. His guitar skills matched with his onstage enthusiasm and wit make him a natural in the role of George Harrison. Rounding out the fab four cast is Belfast, Northern Ireland native Colum Henry who captures the energy and humour of John Lennon to perfection. Of course, no Beatles related performance would be complete without the musical contributions of producer George Martin and keyboardist Billy Preston. The 'fifth Beatle' role is handled admirably by multi-talented musical director and keyboardist John Brocksom.