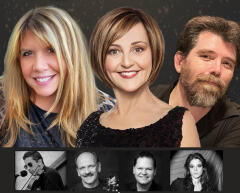 Happy Ha Ha Holidaze show info performer biosThe Ha Ha Holiday show that promises to deliver plenty of la la laughter
and some chair-dancin', toe-tappin musical moments.
You can also expect a visit from a quirky character or two, too. If you're
looking to forget about the stress of the real world for awhile, spend
some time with the Holidaze crew for their unique seasonal celebration
full of good feelings. We'll meet you there! CAST FEATURES: Heather
Rankin, Jenn Sheppard, Terrance Murphy, Colin Grant, Fred Lavery,
Stephen Muise and Emily Dingwall.