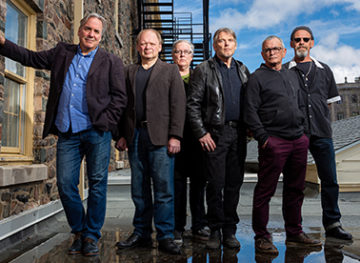 Rawlins Cross
6:00pm
$35
NEW DATE AND TIME!
all tickets an additional $5 day of show
*** PLEASE NOTE: New date and time for show due to weather!! Rawlins Cross will now be at Strathspey on Sunday, December 1 at 6pm. ***
Please join us on Sunday, December 1 at 6pm as we welcome Rawlins Cross to our Mabou stage as part of their '30th Anniversary Flying Colours Tour'. Tickets on sale now!
Celebrating its 30th anniversary, Rawlins Cross is approaching legendary status as one of Canada's most accomplished and beloved Celtic music groups. With the upcoming release of its 10th studio recording, 'Flying Colours', Rawlins Cross continues to capture the hearts and imaginations of a dedicated global fan-base developed over an acclaimed career.
---
The band was formed in St. John's, Newfoundland in the late 1980s by songwriting brothers Dave Panting (guitar and mandolin), Geoff Panting (keyboards and accordion) and Ian McKinnon (highland pipes, tin whistle and bodhran). With the solid rhythm section of Halifax bassist and Chapman Stick player Brian Bourne and Ontario-based drummer Howie Southwood, Rawlins Cross enlisted PEI singer Joey Kitson to complete its signature sound.
Since the beginning, Rawlins Cross has been at the vanguard of the fusion of Celtic traditional music with the rhythms of Rock, Pop and Worldbeat music. Equally at ease with a soulful Highland Air (MacPherson's Lament) or a raucous party song (Colleen, Wild Rose, Reel 'n' Roll), Rawlins Cross never fails to electrify its faithful fans. Over the years, Rawlins Cross has always been a "fan favourite" on the North American and European music festival circuit and regularly plays to sold-out concert halls across Canada.
30 years and 9 albums later, Rawlins Cross continues to maintain a steady course with their 10th studio recording "Flying Colours" (November 2019). "Flying Colours" will prove to be another significant mile marker in the band's storied career – an eclectic mix of the old world and the new.
---