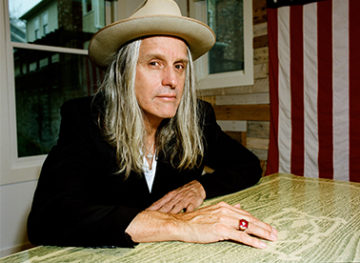 Steve Poltz Shine On… Canada!
7:30pm
$35
$30 strathspey member
all tickets an additional $5 day of show
"Onstage, Poltz is part busker, part Iggy Pop and part Robin Williams, a freewheeling folkie with a quick wit and big heart. See him live and wonder why he doesn't fill arenas." – Associated Press
---
We're so pleased to announce "Steve Poltz Shine On… Canada!" on Wednesday, May 22 at 7:30pm in Mabou, Inverness County.
TICKETS ON SALE ON FRIDAY, MARCH 15
---
This event will be general admission seating – an intimate, up-close and personal experience that you'll never forget! If you haven't seen Steve before, you are in for a real treat!
---
Throughout over three decades in music, Steve Poltz did it all and more—often shared by way of his rockin' countrified folk slices of sardonic Americana (hatched in Halifax). Of course, he co-wrote Jewel's multiplatinum Hot 100-topping megahit "You Were Meant For Me," but he also went on a whale watch with her and a few federales that turned into a drug bust. The two still share the story at every festival they play together. He made his bones as the frontman for underground legends The Rugburns, who burned rubber crisscrossing the continent on marathon tours and still pop up once in a while for the rare and quickly sold out reunion gig.
In 20 years since his full-length solo debut, One Left Shoe, he blessed the world's ears with twelve solo records, spanning the acclaimed 2010 Dreamhouse and most recently Folk Singer in 2015. NPR summed it up best, "Critics and fans alike now regard Poltz as a talented and prolific songwriter." By 2016, he survived a stroke, endured anything the music industry could throw at him, and still performed like "280 days a year."
However, he still never lived in Nashville, which represents a turning point in the story and the genesis of his 2018 Red House Records debut, Shine On…
Evoking themes of "hope, love, contemplation, celebration of Wednesday, pharmacists, and the fact that windows are not inanimate objects and they sometimes have conversations with each other," the record represents Steve at his most inspired and insightful. The opener and title track "Shine On" pairs a delicate vocal with lithely plucked acoustic strings as he urges, "Shine on, shine on."
"'All Things Shine' came about after one of the many mass shootings on this planet," he sighs. "I was feeling overwhelmed. So, I wanted to put my feelings into words and melody. I was thinking that even if we're feeling hopeless that there is still beauty. All things shine in their own way.
As good as his albums are (and they're very, very good), Steve positively owns a crowd when he's on stage, where the proverbial rubber hits the road. His shows are the stuff of legend – no two are alike – and can take an unsuspecting audience from laughter to tears and back again in the space of a single song. 
He is quite possibly the most talented, and engaging, solo performer on this planet. That's what 250+ shows a year on three continents will do for you. Whether he's Canadian, or American, or simply from space, there's no denying there's only one Stephen Joseph Joshua Poltz and to know him is to love him.